Italy can vaunt an
enormous amount of treasures of culture and art
. Paintings, statues, churches, buildings, palaces and fountains are a sparkling series of signs through which the visitor can reconstruct a civilization that really did change the world. Indeed, so many of the
worlds historic and artistic assets are within its boundaries
. Moreover, there is its rich, extraordinary nature. In Italy there are a thousand ways to use your free time: practicing sports, cultivating hobbies, relaxing or going to a concert, a play, a
traditional festival
, or a sporting event or by simply sitting in a bar and enjoying a cappuccino or a glass of good wine, or wandering around the beautiful towns, visiting churches, palaces, monuments, castles,
archeological sites
, museums, galleries, squares and streets.
Another great reason for coming to Italy is the desire to taste
authentic Italian cooking
.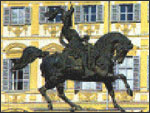 Capital of the Western Alps and of the Piedmont Region,
Torino was founded 2300 years ago
by the Taurini Gauls, a Celtic tribe, and was a Roman military camp called
"Augusta Taurinorum"
in the early Roman period. Taurus is latin for bull and still today the bull is the symbol of Torino. In the Middle Ages the Savoys, Lords from the homonymous French region, began to extend thier ambitions towards the most important territories in Piedmont.
Since the
17th century
, it has been the seat of the Savoy Dynasty. In the 19th century, it was the
first capital of the Italian Kingdom
after the unification of Italy. Nowadays
Turin is a modern industrial and commercial city
, the seat of Fiat and many other industries as well as the home of the famous Martini, Cinzano and Carpano Vermouth Industries. Turin also boasts artistic churches, buildings and well-known museums. The most important of these is the
Egyptian Museum
,

the
2nd largest in the world
after the one in Cairo. The large squares, the straight avenues lined with trees,

the streets with arcades give the city an appearance of noble and charming elegance. Beside being famous for their wide selection of typical regional food and wines like
Barolo
,
Barbaresco
and
Dolcetto
, Piedmont and Turin are well-known also for their hors-d'oeuvres and "pasticceria" (small pastries, friandises, chocolate). Some of the old café bars (Baratti & Milano, Al Bicerin, Caffé Torino, Caffé San Carlo, Caffé Pepino, Caffé Mulassano) visited by the aristocracy are open to the public and one can still enjoy some of the old recipes and live the athmosphere of the past centuries. Nowadays Turin is very proud of itself because it will host the
2006 Olympic Winter Games
which will attract athletes and people from all over the world.
TYPICAL PIEDMONTESE FOOD
Agnolotti
: Throughout Piedmont the reigning dish is the "agnolotto", a kind of ravioli in all its various forms. With or without truffles, served with melted butter or meat sauces and filled with spicy or delicate fillings.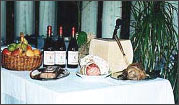 Antipasti Misti
: Appetizers are present at the beginning of every meal and go far beyond their function of whetting the apetite. Appetizers from Piedmont regional cooking include cured or seasoned meats (in "carpione", with sauces or salamis), stuffed with vegetables, omelettes with vegetables, and salads with cold meats and vegetables; all offered in an incredible number of combinations just waiting to be tasted.
Bolliti Misti
: Boiled meats that are served with different sauces.
Fritto Misto
: Braised meats simmered in top quality wines, a delicious "fried medley" with meats, entrails, vegetables, and amarettos that are coated in breadcrumbs and fried.
Bagna Cauda
: At times an appetizer, at times a second course this is a difficult to define dish, it is a triumph of semplicity and tastiness. It consists in fresh vegetables immersed in the boiling hot sauce made of oil, garlic, and anchovies.
Bonnet
: The typical dessert made of chocolate and amarettos.
TYPICAL PIEDMONTESE WINES

Barolo
: Barolo wine is more aristocratic and bold, with traces that go from rose to violets, to tar, and, with a sip, it at times strongly recalls licorice.

Barbaresco
: Barbaresco wine is gentler, more aromatic and a spicer wine with hints of dried peach and other fruits. It has a "softer" taste but leaves a tantalizing "tang" of a delicate "mixture" of cinnamon, black pepper and plums.
Dolcetto
: Dolcetto, in spite of its name, is not a sweet wine, but it is the most popular, everyday table wine most suitable to accompany Piedmontese cuisine. It is characterized by a rich ruby color and the fruity aromas recall aromas of red fruits like marasca cherries and wildflowers.